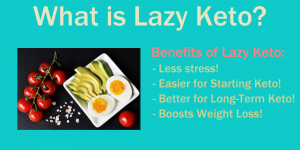 The Keto diet is one of the most well-known diets today and is thought by many to be an excellent way to lose weight.  It is, however, very strict and hard to sustain for long periods of time and many people will find it too restrictive and will eventually give up. But, there is a variation of Keto called LAZY KETO that is gaining popularity, too. It's less restrictive and easier to maintain, while still giving you the benefits of the stricter version, though maybe at a slower pace
In order to understand lazy keto, you do need to fully understand the regular version so I recommend you read last week's post where we fully explained the ketogenic diet. In a nutshell, when you significantly drop the amount of carbs you eat, your body enters a state of ketosis. Which means it burns ketones and fat for fuel instead of glucose (or carbs).
With regular Keto you have to keep track of all your macro (carbs, protein, fat, calories, etc.). Most use some sort of app to do this. With lazy keto, you don't keep track of much at all. Instead, you focus on reading food labels and casually keep track of your carb intake yourself, just eating foods that you already know are low in carbs throughout the day. There are no strict rules regarding your calories, fat, or protein intake. Basically, you just try to eat low carb (25-50 carbs a day), high fat and moderate protein. You take the easy or lazy approach.
Benefits of Lazy Keto:
Less Stress: All of the tracking involved with normal keto can get a little old and tedious, but lazy keto removes the stress. When you follow this approach, you have more freedom to experiment with healthier high-fat, low carb meals and foods without having to track exactly how much protein and fat they contain.
Easier for Starting Keto: If you want to try out Keto before investing a fortune on special, low carb foods, this might be the way to do it. At the end of the day, you'll still be eating higher fat and lower carb foods. If you can stick with the lazy version for a week, you may want to try regular keto. If you found it hard to stick to even lazy keto, the regular version definitely won't be for you.
Better for Long-Term Keto: Whether you're tracking your macros or not, at some point, it may become challenging to continue with keto. Many people do this diet for a set amount of time. However, if you want to keep this lifestyle after reaching your goal, the lazy approach may be more suitable, for the long-term and more do-able.
Boosts Weight Loss: Whether or not you're tracking your macros, when you start cutting out bad carbs (sugar, white bread, cakes, cookies, etc.), you're sure to lose weight. If you can get your body into ketosis on lazy keto it's a plus, but you'll also slim down just from cleaning up your diet.
Cons of Lazy Keto:
Harder to Reach Ketosis: While you can definitely get your body into ketosis on lazy keto, it will a bit more difficult and may take longer.
Potentially Slower Weight Loss: You will most likely still lose a good amount of weight on lazy keto, but you may not lose as much as you would on stricter versions.
Keep in mind that lazy keto is not the same as dirty keto. Those following lazy keto keeps you on a healthy lifestyle plan, while those following a dirty keto diet can easily slip into unhealthy eating, by eating highly processed and Keto junk foods instead of wholesome nourishing foods. Those following dirty keto often manipulate the rules so that they still eat plenty of fast food and processed food as long as it's low carb and high fat.  While this might not kick you out of ketosis, it does not lead to a healthy lifestyle. Some people like to combine the two and allow for some dirty keto foods on special occasions. Personally, I lost 35 lbs following a lazy keto diet, with some dirty keto here and there. I was put off by all the rules and regulations of the ketogenic diet until I gave this more lenient version a try.
If you are intrigued by the potential benefits of the ketogenic diet but not ready to take the plunge, then lazy keto may be just the thing you need! It allows you to test the waters and see if it is something that will work for you!