I love a good salad, but sometimes it just doesn't fill me up, like I think it should. This BLT Salad with Chicken has enough fat & protein to keep you satisfied until your next meal!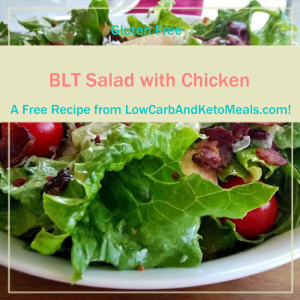 Serves 2
Ingredients:
2 tsp. balsamic vinegar
1/2 tsp. black pepper
1/2 c. cherry tomatoes, halved
4 c. mixed greens
4 strips cooked bacon, crisp
3 hard boiled eggs, peeled & sliced
1 c. chicken breast, cooked & chopped
Directions:
For the Balsamic Vinaigrette:
In a glass jar combine olive oil, vinegar & pepper.
Shake well to mix & then refrigerate.
For the BLT Salad with Chicken:
Crumble bacon in a large bowl then add chopped, cooked chicken breast, tomatoes & sliced hard boiled eggs.
Add mixed greens & then drizzle vinaigrette over the mixture.
Toss gently to coat.
Nutritional Stats per serving: Net Carbs 3 gr.; Fat 35 gr; Protein 36 gr.; Calories: 487 gr.
If you have a few extra carbs to spare try it with 1 T. poppy seed dressing (I use Marie's). It'll add 4 gr. carbs but sometimes it's worth the splurge! Toss on a few walnuts & it will be mmmm…so good!