Chicken & Cheese Enchiladas
Want a quick & easy recipe to make on a busy night? Try this recipe & you'll have time for lots of other things. It's great for low carb diets & those who are watching their weight!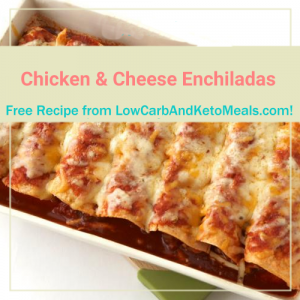 Ingredients:
Directions:
Preheat oven to 350°F.
Mix soup, sour cream, salsa & chili powder in medium bowl.
Stir 1 cup sauce mixture into chicken & cheese in a large bowl.
Divide the chicken among 12 tortillas. Then roll & place in baking dish.
Cover with the rest of sauce mixture.
Bake for 50 minutes or until bubbly.
Top with extra cheese.