Chicken Enchilada Skillet
The minute you sink your teeth into this your eyes will roll back in your head! It's unforgettable & has a south of the border taste!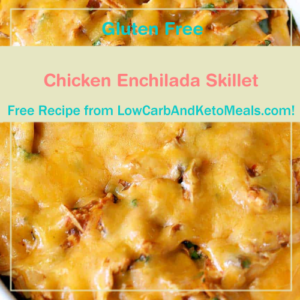 Ingredients:
1-1/2 lb. cooked chicken, shredded (can used canned or rotisserie chicken)
2 bags taco seasoning mix (or make your own taco seasoning mix)
1 c. chicken broth
3 T. tomato paste
1 T. butter
1 c. sour cream
1 c. favorite shredded cheese (I use a Mexican Blend)
Optional garnish: green onions, sliced
Directions:
In a large skillet melt butter over medium heat. Add the chicken broth and bring to a simmer.
Whisk in tomato paste and taco seasoning mix.
Reduce heat to Low and whisk in the sour cream until combined.
Stir in the chicken and toss to coat. Simmer for five minutes and top with cheese. Cover skillet until cheese melts. Turn off heat and serve.
Optional: Serve with Tortilla Chips and sour cream.
For higher carb meal add 1 can of black beans.