What can I say? Grandpa always had the best recipes & this one's one of his best! If you can't trust Grandpa then who else can you trust?!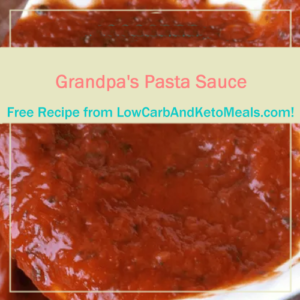 Ingredients for Grandpa's Pasta Sauce:
3 cans of 32 oz. tomato puree, preferably organic
2 1/4 cans water
2 cloves garlic, minced
1-2 sweet peppers
2-3 Hungarian hot peppers (optional)
1/2 c monk fruit or other low carb sweetener
2 T. oregano
2 T. Italian seasoning
1 T. basil
1 T. garlic salt
1 T. onion salt
3 T. Parmesan Cheese
2 lbs. of ground beef made into meatballs
2 Italian sausage links
1 tsp. baking powder
Directions for Grandpa's Pasta Sauce:
Put all ingredients in a sauce pot except for the meat. Bring to boil.
Add 1 tsp. of baking soda.
Add sausage & meatballs.
Simmer for 1 hour with the lid on & 2 hours with lid off.
Serve over your favorite zoodles, gluten free noodles or anything that you wish!
Meatballs
Ingredients for the Meatballs:
Directions for the Meatballs:
Preheat your oven to 350°F.
Mix meat, eggs & grated cheese together.
Then add salt & pepper (to taste).
Add breadcrumbs until you can form firm meatballs.
Bake for 30 minutes or until they're brown but not crispy.
Use in any recipe calling for meatballs. Especially this one!