When you grill chicken breast you have to be so careful not to overcook or it becomes dry. I found this method to be the very best for having tender, moist chicken breast. Use your favorite low carb BBQ sauce and enjoy as the main dish, in a casserole, or in a salad. Delicious!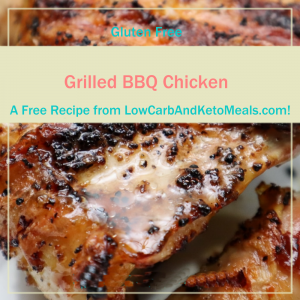 Ingredients:
Directions:
Pound chicken breast. Coat the chicken pieces with olive oil and sprinkle salt over them on all sides.
Prepare grill: Prepare one side of your grill for high, direct heat. Keep one side of grill on low.
Sear chicken on hot side of grill, move to cool side: Lay the chicken pieces skin side down on the hottest side of the grill in order to sear the skin side well. Grill uncovered for 5 to 10 minutes, flip & sear other side. Move to cool side of the grill.
If you're using a gas grill, maintain the flame on only one side of the grill & move the chicken pieces to the cooler side, not directly over the flame.
Reduce the temp to low or medium low (between 250°F and 275°F, no more than 300°F).
Cover the grill & cook undisturbed for 15 to 20 minutes.
Turn over & baste with barbecue sauce: Turn the chicken pieces over & baste them with with your favorite barbecue sauce. Cover the grill again & allow to cook for another 10 to 15 minutes depending on thickness of chicken.
Repeat: Turning the chicken pieces over, basting them with sauce, covering, then cooking for another 10 to 15 minutes. NOTE: Timing will depend on your grill setup, the size of your chicken pieces & how cold your chicken pieces are to start with! If you're grilling smaller pieces of chicken on a charcoal grill, they may be done much earlier. The goal is to maintain a low enough grill temp so that the chicken cooks "low and slow".
Finish with a sear or remove from heat when done: The chicken is done when the internal temperature of the chicken pieces are 160°F for breasts and 170°F for thighs, when tested with a meat thermometer.
If you want, you can finish with a sear on the hot side of the grill. To do this, put the pieces, skin side down, on the hot side of the grill. Allow them to sear & blacken slightly for a minute or two.
Brush with more BBQ sauce to serve.