Nothing tastes better than this main dish! It's got all the ingredients of a regular Chicken Parmesan but without all the carbs!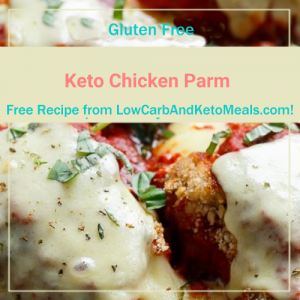 Ingredients:
Egg Wash Ingredients:
Directions:
Preheat oven to 350°F.
Pound chicken until thin.
Prepare Egg Wash.
Add garlic salt & Parmesan cheese to panko.
Dip chicken in egg wash.
Bread both side of chicken with panko.
Fry in olive oil 5 minutes each side or until 150°F internal temperature.
Put in a baking dish & and sprinkle with mozzarella cheese.
Bake for 5 minutes or until cheese is melted.
Serve with Tomato Sauce & fresh basil (if desired).