Low Carb Chicken Cordon Bleu
This is the perfect casserole to make when you are craving chicken, ham & cheese! Chicken Cordon Bleu is a treat no matter when you eat it. However this recipe makes it so much easier to make! Plus it's made as a casserole & a one dish wonder is so much better!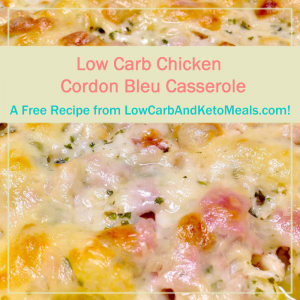 Ingredients:
6 cups cooked chicken, shredded (from about a 2 lb. chicken)
8 oz ham, cut into bite size pieces
5 oz. Swiss cheese
1 c. heavy whipping cream
1 stick of butter
12 oz. cream cheese
1 c. of mozzarella cheese, shredded
1 c. Parmesan cheese
Instructions:
Preheat the oven to 350°F.
Place the chicken in the bottom of a 9 x 13 baking dish that's been sprayed with extra virgin olive oil spray.
Layer the pieces of ham on top of the chicken.
Meanwhile in a saucepan, add the milk, butter cream cheese, mozzarella cheese & Parmesan cheese then heat slowly until sauce is smooth.
Pour sauce over chicken and meat mixture.
Lay slices of Swiss cheese on the very top of the casserole dish.