If you're missing granola as part of your daily breakfast routine, serve this with almond milk & this Nut Granola recipe will fulfill that cereal craving!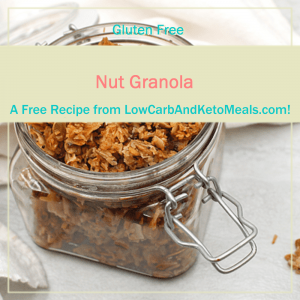 Ingredients:
*In a pinch you can use a can of mixed nuts, chopped.
Directions:
Preheat oven to 300°F.
Cover a cookie sheet with parchment paper.
Chop nuts with a chopper until coarsely chopped to the texture of granola. (You can use blender or food processor)
Transfer to mixing bowl then add water, oil, flax meal, coconut, cinnamon, vanilla & sea salt.
Mix well & spread on cookie sheet in a single, even layer.
Put in oven and bake for 20 minutes. Toss the mixture and bake another 10 minutes. Keep an eye on it and be careful not to over bake.
Remove from oven & let sit on cookie sheet for 20 minutes until hardened.
Once hardened break into bite size pieces & transfer to Mason jar.
Store in refrigerator for up to 30 days or in a freezer for up to 2 months.
Serve alone, as a garnish, or with almond milk. You can also add your favorite berry!