Philly Cheesesteak Casserole
This tastes almost exactly like a traditional Philly Cheesesteak sandwich. Except there's no bun which lowers the carb count! Which is exactly what you want when you're on a Low Carb/Keto lifestyle plan!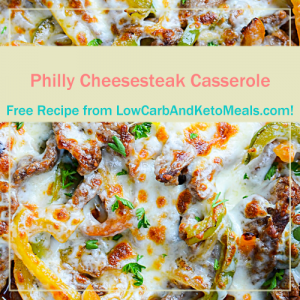 Ingredients:
1 lb. thinly sliced London broil
1 T. Worcestershire sauce
2 T. butter or ghee
1 T. olive oil
1/4 cup beef broth
1 large onion, sliced into long strips
2 medium red, green or yellow bell peppers, cut into long strips
2 cloves of garlic, minced
1 tsp. salt
1 tsp. black pepper
1 cup mozzarella cheese, shredded
Directions:
In a large saute pan & cook the steak with butter/ghee & olive oil over medium-high heat. Cook meat until it is slightly browned.
Add beef broth, Worcestershire sauce, garlic, salt & black pepper. Stir to combine.
Add onion & peppers, cook until softened. About 5 to 7 minutes.
Top with cheese, reduce heat to low until the cheese is melted.
Serve as is or with low carb corn tortillas or low carb rolls.