This easy and delicious Pizza Bites recipe makes the perfect low carb/keto snack alternative when you're craving pizza! And since it only takes three ingredients to make it you won't have to wait long to eat them!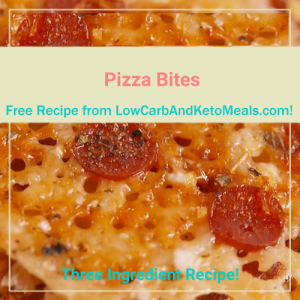 Ingredients:
Shredded cheese (such as mozzarella or cheddar)
Pepperoni
Directions:
Preheat oven to 400°F.
Layer about a heaping T. of cheese on a baking sheet, top with pepperoni & 1 tsp. sauce. Fill the baking sheet.
Bake for 5 to 10 minutes, or until the cheese is bubbly & crisp.
Let sit on the counter for a few minutes until it's firm.