Rosemary Pork Chops with Asparagus
There's dozens of ways to dress up some pork chops. But none of them are as tasty as these! And I'm pretty sure that you won't find very many that are Low Carb/Keto friendly like these are! They taste awesome, too!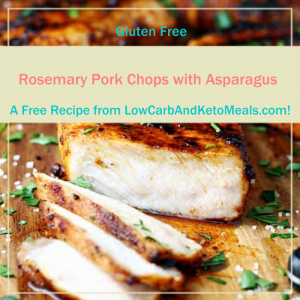 Serves 4
Ingredients:
2 T. olive oil
1 tsp. garlic, minced
1 T. rosemary
4 pork chops
2 c. asparagus
Directions:
Heat olive oil in a large skillet.
Add garlic & rosemary. Then cook for 1 minute.
Add the pork chops until brown on both sides. Then add the asparagus to the pan. Then the salt & pepper (to taste).
Continue cooking until pork chops are done (145°F) & asparagus is a crisp/tender.
Nutrition Info per serving: Net Carbs: 2.5 gr.; Fat: 40 gr.; Protein 41 gr.; Calories: 449 gr.
---