If you're looking to spice up your breakfast, this tasty frittata will fit the bill! You can make your morning even easier by prepping the onions & sausage the night before! If you like, add peppers as well!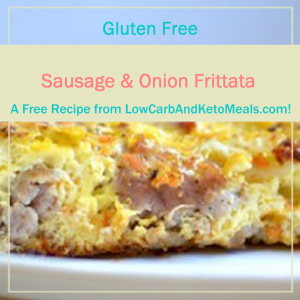 Serves 4
Ingredients:
6 oz. pork sausage
1 c. onions, chopped
12 eggs, beaten
1 T. grapeseed oil
Directions:
Heat oil in small nonstick skillet over medium heat.
Add the sausage & onion.
Then cook until onions are soft & sausage is browned.
Season with salt & pepper (to taste).
Add the eggs & cover for about 8 minutes, until eggs are set.
Slide onto a plate & slice into wedges.
Nutritional Info Per Serving (g): Carbs 5.1 gr.; Fat 30 gr.; Protein 29.1 gr.; Calories 409 gr.