Savory Barbecued Spareribs
If you've been missing yourself, some good tasting BBQ since on a Keto diet, this recipe will let you enjoy some ribs with no guilt!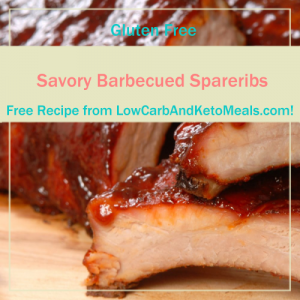 Ingredients:
Directions:
Turn ribs bone side up.  Use sharp knife of kitchen sheers to remove the thin membrane over the bones.  Removing this membrane will make the ribs melt in your mouth.
Preheat oven to 300°F.
Line a cookie sheet with foil or parchment paper.
Place ribs meat side up on cookie sheet.  Salt & pepper.
Bake for 3 hours.
Pour BBQ sauce over the spareribs.
Put ribs on grill for under broiler for about 5 minutes, until browned.
Serve.
*If you want a prep & go option: Instead of the oven, put the ribs in a crockpot & cover. Then cook on low for 6 hours. Add BBQ sauce to ribs & cook another hour then serve.