There's nothing more enticing than the smell of sourdough bread that's come right out of the oven! This one's better than the best since it's so wholesome & hardy for you!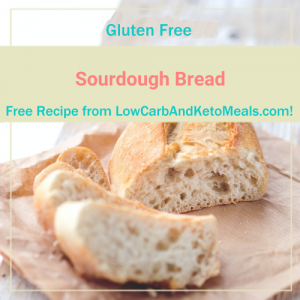 Ingredients:
Directions:
Preheat oven to 350°F & line a baking sheet with a silicone nonstick baking mat or parchment paper. Set aside.
Add all dry ingredients to a large bowl (almond flour, psyllium husk, coconut flour, flax meal, 1 tsp. salt, baking powder & baking soda. Whisk well to combine.
In a separate bowl add egg whites, eggs, buttermilk, apple cider vinegar & water. Whisk until frothy on top.
Slowly add wet ingredients to dry ingredients. Mix well just until incorporated.
Divide & portion dough into 1 large loaf, small loaves or rolls. Use a kitchen scale to make rolls all equal in size.
Score the tops of each loaf/roll with a sharp knife. Bake for 30 to 35 minutes until the bottoms & edges of each roll are light golden brown or 40 to 45 minutes for large loaf.
Remove from oven & brush tops of each roll with melted butter. Then sprinkle with a little salt & Italian seasoning (if desired). Place back in the oven under broil for 2 to 3 minutes until tops are a deep golden brown & crisp. Keep an eye on the rolls to make sure you do not burn them.