Southwestern Avocado Egg Wraps
Those on a Keto diet often eat a lot of eggs & that can get boring. This recipe will spice up your morning ritual & make a satisfying breakfast!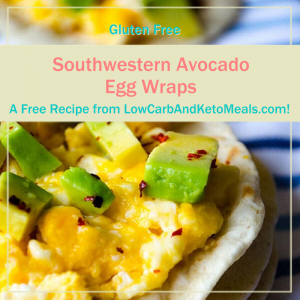 Serves 1
Ingredients:
3 eggs
1 T. salsa
1 oz. of shredded cheese (try cheddar or Mexican)
1/2 cup avocado cubes
1 tsp. olive oil
1 Low Carb Burrito Wrap
Directions:
Crack eggs in a bowl & whisk.
Spray pan with oil.
Allow it to warm up slightly.
Put eggs in pan & scramble on low heat.
Add the salsa & shredded cheese.
Stir until eggs are firm then remove from heat.
Top with avocado.
Nutritional Stats per serving: Net carbs 6 gr.; Fat 28 gr.; Protein 29 gr.; Calories 474 gr.