Spaghetti Squash Lasagna Casserole
Are you missing Italian food while following the Keto Diet? This recipe has all the fixings of lasagna without all the carbs!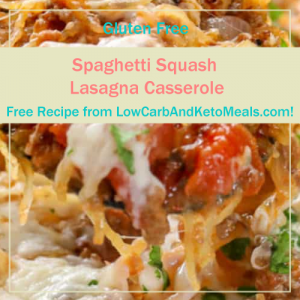 Serves 6
Ingredients:
Small spaghetti squash, cooked
1 1/2 cups ricotta cheese
1/2 cup Parmesan cheese
1 large egg
1 lb. ground beef, browned
1 1/2 cups No sugar marinara sauce
1 cup mozzarella cheese
1 tsp. fresh basil, chopped (optional garnish)
Directions:
Preheat oven at 350°F.
Scoop cooked squash out onto a plate & dab it with paper towels to get the excess water out.
Layer spaghetti squash strands on the bottom of a 9″ × 9″ baking pan.
Mix ricotta & Parmesan cheese with egg. Then with salt & pepper (to taste). Spread mixture on top of squash.
Layer meat over cheese mixture then pour sauce over.
Top with mozzarella cheese.
Bake for about 25 to 30 minutes.
Net Carbs: 5g per serving