Spinach Salad with Italian Sausage
When you first take a bite of this, you'll wish you'd have had this recipe for years & years! It's a pretty simple recipe to make & it has little bursts of flavor in every single bite!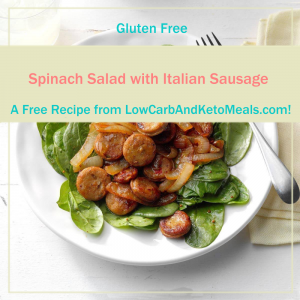 Serves 2
Ingredients:
4 c. baby spinach
1/2 c. cherry tomatoes, cut in half
1/4 c. red onion, sliced
6 oz. of Italian sausage links, sliced
Directions:
Toss spinach, tomatoes & onions in a bowl.
Cook the Italian sausage until it's warmed through. Either in a saucepan, grilled or fried.
Top with cooked sausage & drizzle with your favorite dressing.
Nutrition Facts per serving: Net Carbs 8 gr.; Fat 21 gr.; Protein 16 gr.; Calories 275 gr.
---