When you are looking to satisfy your appetite with a hearty but low carb & keto soup you won't find one better than this one!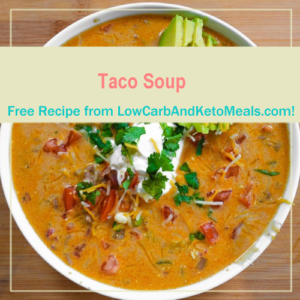 Ingredients:
2 T. grapeseed oil
2 lb. ground beef
2 T. minced garlic
2 bell peppers (1 red/1 green), diced
1 onion, diced
2 pk. taco seasoning mix (or make your own with this recipe: https://lowcarbandketomeals.com/homemade-taco-seasoning-mix/)
1 jar Salsa
1 – 14 oz. can of diced tomatoes (crushed tomatoes if you don't like chunks)
1 – 32 oz. carton beef broth
1 8 oz. bar of cream cheese (room temperature for easy melting)
1/2 C. heavy cream or coconut milk
2 T. Frank's Hot Sauce (optional)
Directions:
Put oil in fry pan then add the onion, peppers & garlic.
Add ground beef & brown.
Add taco seasoning mix with a little beef broth & cook until mixed.
Transfer to stock pot then add salsa & beef broth then cook until boiling.
Simmer for 10 minutes.
Add cream cheese & heavy cream, stirring until mixed.
Add hot sauce if wanted or serve with hot sauce.
Serve.
*Garnish with your favorite cheese, sour cream, keto tortilla chips and/or avocado.