Salad dressing that comes from a jar is for an average salad. If you really want to make a knockout salad dressing, with just three ingredients, make this one! It's so easy to make & you'll love the taste! It goes great with our BLT Salad with Chicken recipe!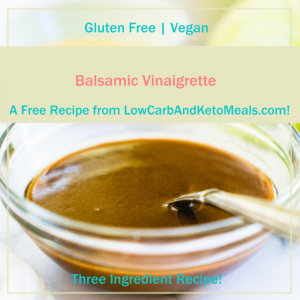 Serves 2
Ingredients:
2 tsp. balsamic vinegar
2 T. extra virgin olive oil
1/2 tsp. black pepper
Directions:
In a glass jar combine olive oil, vinegar & pepper.
Shake well to mix & then refrigerate.
Nutritional Stats per serving: Net Carbs 0.4 gr.; Fat 14 gr; Protein 0.1 gr.; Calories: 122 gr.