Easy Low Carb Taco Casserole
What a great recipe to use! This is a traditionally a high carb meal, but you'll love it because it has way less carbs, than you thought possible! It's also very versatile cause you can mix & match the ingredients you put into it!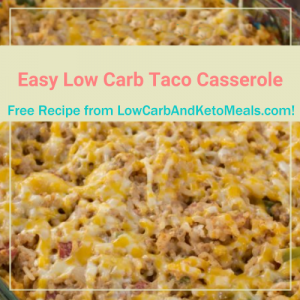 Amount Per Serving:
Calories 400
9 net carbs
Serve with Quest Chips for 4 net carbs equal 13 net carbs
Ingredients:
Directions:
Preheat oven to 350°F degrees & spray a 9×13 casserole dish with non- stick spray.
Meanwhile, in a large skillet, sauté the cauliflower in 2 T. of butter (or olive oil). Season with garlic salt.
Cook the cauliflower until it becomes soft.
Slowly mix in the cream cheese until melted & combined (Note: It will be thick.)
Spread your cream cheese cauliflower in the bottom of the casserole dish.
In your skillet brown your ground beef until there is no more pink.
Season with taco seasoning & stir in the can of Rotel.
Spoon mixture over the cauliflower.
Top with the shredded cheese.
Bake for 20 to 30 minutes until heated through & the cheese begins to brown.
Recipe Notes:
Instead of making a cauliflower layer & a meat layer you can mix it all in the skillet before adding it to the casserole dish. We've cooked it both ways & it tastes great either way!
If the cauliflower layer is a little too thick, try adding a little heavy cream to the mixture.