Keto Buffalo Chicken Tenders
Forget about the rubber chicken that the fast food restaurants serve! This recipe beats anything they make hands down! Plus it's healthy & good for you! No way they can say that about theirs!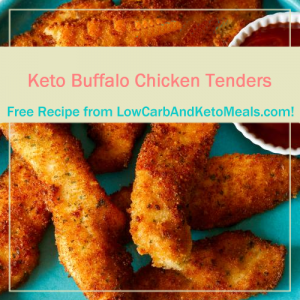 Ingredients:
Directions:
Preheat oven to 425°F.
Cover a baking sheet with parchment paper.
Rinse chicken tenders under cold water.
In a mixing bowl combine crushed pork rinds & all spices. Whisk together until fully mixed & put half of them into a shallow bowl.
In another small bowl whisk together 1 T. hot sauce & mayo.
One at a time dip chicken tender into mayo until fully covered.
Dredge chicken tender in pork rind mixture, flipping until fully covered.
Transfer chicken tender to baking sheet.
Repeat until all the pork rinds have been used. Then get a new bowl ready & pour in the rest of pork rinds (this prevents lumps) into it.
Finish dredging chicken until all is used.
Bake Chicken Tenders for about 15 minutes (make sure internal temperature is 165 degrees ).

Sauce:
Melt 2 T. butter in a large pan over medium heat.
Add remaining hot sauce & stir into melted butter.
Add baked chicken tenders & toss until coated.
Serve with Bleu Cheese, Ranch, or your favorite dressing.
Recipe Note: Total Carb: .9g; Total Fat: 29.6 g; Protein 40.3 g; Fiber: .3g