There are only a few ingredients to make this recipe! It is filling & it tastes amazing!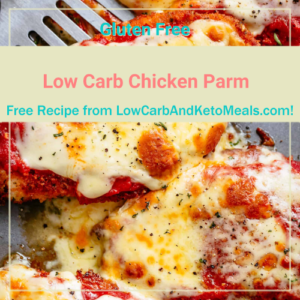 Ingredients:
4 chicken breasts, about 6 oz each
1 – 16 oz jar of lower carb tomato sauce or make your own.
1 c. pork rind panko seasoned with 2 tsp. garlic salt & 2 tsp. Parmesan cheese
1/2 c. Parmesan cheese
1 c. mozzarella Cheese
Directions:
Preheat oven to 375° degrees.
Pound chicken breasts to an even thickness.
Season chicken with pork rind panko mix.
Pour 1 c. of tomato sauce into the bottom of a 9×14 baking dish.
Place chicken on top of sauce and sprinkle with 1/2 c. Parmesan cheese.
Pour remaining sauce on top of chicken.
Bake for 35 minutes or until chicken reaches an internal temperature of 165° degrees.
Sprinkle 1 c. of shredded cheese on the top of chicken. Then return it to the oven & bake it for another 5 minutes.
Notes: This dish goes great with a Miracle Noodles or any low carb pasta.