It's a whole new ballgame when this pizza dip is in town! It is quick & easy to make so suitable for just about any occasion!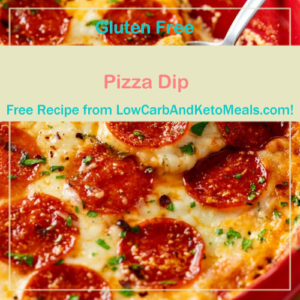 Ingredients:
1 c. milk or almond milk
16 oz. cream cheese
1 c. Parmesan cheese
1 c. mozzarella cheese (for the Dip)
1 c. mozzarella cheese (for the Topping)
1/2 cup pasta sauce or marinara sauce
1/4 lb. pepperoni, sliced (or any number of toppings you like on a pizza)
Directions:
Combine milk, cream cheese & Parmesan cheese in a sauce pan & melt until smooth, stirring occasionally.
Pour into 2 shallow baking pans & let harden for a few minutes.
Top milk & cheese mixture with pasta sauce. Then with the mozzarella  & pepperoni, layering it as you would a pizza.
Microwave or put in oven until bubbly.