Pork & Vegetable Stir Fry
Sometimes you just have a hankering for Chinese food & it can be difficult on a low carb or Keto diet to find something that actually tastes like something from your take-out Chinese Restaurant. This Pork & Vegetable Stir Fry uses lower carb veggies but still has a sweetness & a tang that will definitely satisfy that craving!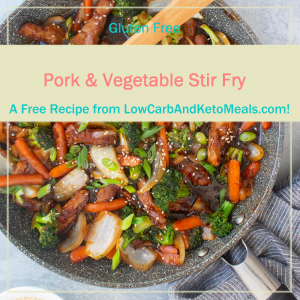 Serves 4
Ingredients:
1 lb. pork steak, cut into strips
1 T. minced garlic or garlic paste
1 T. ginger paste
1/4 cup grapeseed oil
1 small head of broccoli, cut into small florets
3/4 c. carrots, julienned
1/2 c. onions, chopped
1/2 cup fresh green beans, cut in half
1/2 cup bell peppers, cut in strips
Sauce Ingredients:
Directions:
Combine ketchup, vinegar, coconut aminos, monk fruit & xanthan gum in a bowl, set aside.
Add grapeseed oil to a fry pan or wok & add pork. Brown.
Add vegetables to the pan & cook on high heat for about 5 to 10 minutes until tender yet crisp, stirring constantly so they don't burn.
Stir in sauce & mix completely. Simmer for 5 minutes and serve.
Can be served over Cauliflower Rice, if desired.