Spicy Garlic Chicken & Broccoli
While this recipe may be a little spicy for some, it's the perfect balance of meat & veggies to others! The sauce is what makes this meal the most delicious one of all!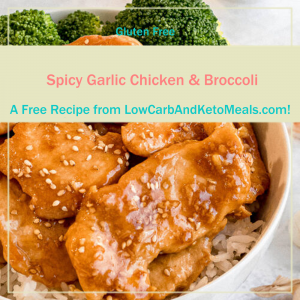 Serves 2
Ingredients:
Directions:
Preheat oven to 400°F.
Mix together the olive oil, onions, garlic, vinegar & hot sauce.
Then toss the chicken & broccoli in it. Stir to coat all.
Lay on a cookie sheet lined with parchment paper or a silicone sheet.
Bake for 20 to 25 minutes until chicken is cooked through (165°F) & broccoli is tender.
Nutrition Per Serving: Net Carbs: 5 gr.; Fat 33.3 gr.; Protein 33.5 gr.; Calories: 466 gr.
---
This recipe is stupendous just as it is! But you could kick it up a notch by adding some red pepper flakes or some hot sauce.
Or you could tone the spiciness down if you aren't into that kind of thing by using less hot chili garlic sauce & substituting it for Sweet Baby Ray's no sugar BBQ sauce. It won't quite taste the same but it'll be close to what this recipe calls for!
This recipe would go great with Cauliflower Rice or some Low Carb/Keto garlic bread for sides!