Looking for a kid-friendly main dish that you won't even know is low carb? Try this chicken nugget recipe. It will be a family-pleaser!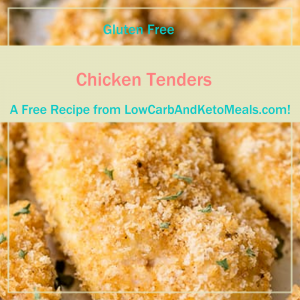 Serves 2
Ingredients:
Directions:
Cut chicken breast into strips.
In a bowl mix pork rinds & garlic powder.
Taste mixture & if needed add a pinch of salt.
In a separate bowl, whisk 1 egg to make the egg wash.
Dip the chicken strips into the egg wash and then dredge with the pork rinds to coat.
Carefully place chicken in oil a few strips at a time and in a single layer. Cook for 5 minutes & then flip and cook 5 minutes more until done.
Place cooked strips of chicken on paper towel to drain while you cook the rest of the chicken. Serve.
* These are great with Ranch Dressing!
Nutrition per serving: Calories 550 gr.; Fat 27 gr.; Net carbs 8 gr.; Protein 60 gr.