There is nothing like chicken soup on a cold night! You won't even miss the noodles with this recipe.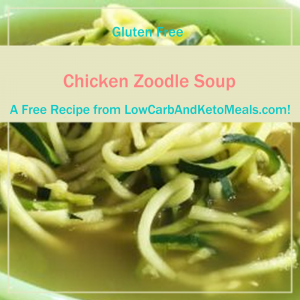 Makes 2 cups
Ingredients:
3 c. chicken broth
1/2 lb. chicken breast, chopped into small pieces (canned is fine)
1 T. olive oil
1 stalk celery
1 onion
1 T. granulated garlic
1 zucchini cut into zoodles (or you can purchase pre-packaged zoodles from most grocery stores.)
Directions:
Add oil to fry pan & saute chicken until cooked.
Add to sauce pan.
Add chicken broth & simmer over medium heat.
Add celery stalk & whole onion for flavor
Simmer for 1 hour.
Add zucchini noodles & let simmer for 5 minutes.
Serve immediately.
Nutrition info: Calories: 310 gr.; Fat 16 gr.; Net Carbs 4 gr.; Protein 34 gr.