Keto Buffalo Chicken Taquitos
This recipe's great as an appetizer or as a main dish! Doesn't matter which one you eat it as just be sure you make it & eat it! You could also share it but that'd mean you'd have to make a double (or triple) batch of them!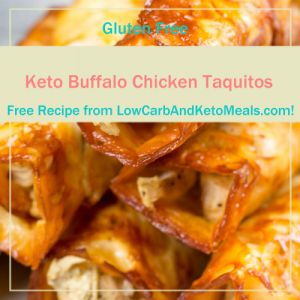 Ingredients:
8 Slices of Mozzarella Cheese
1/2 Shredded Chicken (I have used canned in a pinch)
Favorite Hot Sauce
Ranch Dressing (optional)
Directions:
Preheat oven to 350°F.
Prepare a silicone baking sheet or line a large baking sheet with a silicone baking mat.
Place the mozzarella slices on the silicone baking sheet. Bake 5 to 7 minutes. Be sure to space far enough apart because they spread as they cook.
Mix 1 to 2 T. hot sauce with chicken.
When the edges of the cheese have browned & the cheese is bubbly remove from the oven. Allow them to cool about 1 minute, just so they're cool enough you can handle, but still very pliable.
Place the cooked chicken on the edge of one slice and tightly roll them up, seam side down.
Serve with buffalo sauce and ranch and your favorite veggies.