Who says you can't have French Toast on a Keto Diet? This recipe is delicious & is low in carbs depending on the bread you choose! I like mine with ChocZero's Maple Flavored Syrup but it it great with so many different toppings!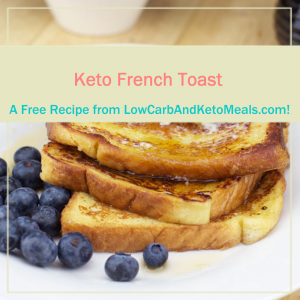 Ingredients:
Choice of Toppings:
Directions:
In medium mixing bowl, whisk together all ingredients (except the bread).
In a pan melt 1 T. butter.
Coat the slices of keto bread with batter & place in pan.
Cook for 1 to 2 minutes until golden brown then flip/turn over. Cook another minute then serve.