What a fine example of an Italian recipe! It has everything you need, to warm you through & through when it's cold outside! Plus it is all made in a single soup pot!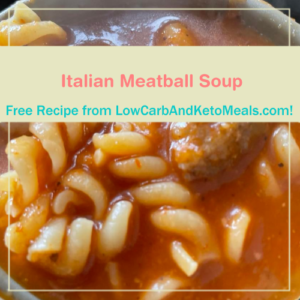 Ingredients:
2 tsp. olive oil
2 T. minced garlic
1 T. Italian Seasoning
1 – 28 oz. can crushed tomatoes (or use 1 jar favorite tomato sauce)
1 quart chicken broth
1/4 c. Parmesan cheese
1 c. dried low-carb pasta (I like fusilli, ziti, or elbow)
1 lb. meatballs formed into bite-sized balls.
Directions:
In a Dutch Oven or soup kettle heat oil & garlic until garlic starts to sizzle.
Add chicken broth, tomatoes & Italian Seasoning. Bring to a boil.
Add meatballs & return to boil.
Turn heat down & simmer uncovered for about 5 minutes.
Add pasta & cook for 10 minutes more or until pasta is tender.
Serve.