Can you imagine a world without Italian influences when it comes to cooking? I don't want to! This recipe's stunning to look at, surprisingly scrumptious & absolutely wonderful from the very first bite! Not to mention that it's good for you!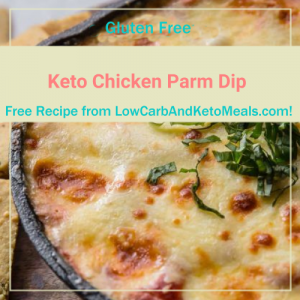 Ingredients:
8 oz. package cream cheese, softened
1/4 cup of sour cream
1/4 cup of mayonnaise
1 T. of basil
1 clove of garlic, minced
Sea salt & ground black pepper, to taste
1 1/2 cups cooked & shredded chicken
2/3 cup grated Parmesan cheese
1/2 cup shredded mozzarella cheese, divided
1 cup of Low Carb Marinara Sauce
7 oz. fresh mozzarella, sliced
Directions:
Preheat the oven to 400° F.
In a large mixing bowl combine the cream cheese, sour cream, mayonnaise, basil, garlic, salt & pepper (to taste). Mix until all ingredients until they're well combined.
To the bowl, add the chicken, Parmesan cheese & 1/4 cup of the shredded mozzarella cheese. Mix until all ingredients until they are well incorporated.
Transfer the mixture to a large skillet or casserole dish. Pour the marinara over top & spread it out evenly across the top of the cream cheese layer.
Layer the fresh mozzarella slices on top of the marinara sauce. Sprinkle the remaining 1/4 cup of Parmesan cheese over top & bake for 15 minutes. Or until golden brown and bubbly.
* Double the recipe to make for church or a party.
Serving size: 1/2 recipe: Calories: 420; Fat: 34g; Net Carb: 5g; Protein: 28g.