Low Carb Cream of Chicken Soup
Cream of chicken soup seems to make almost every recipe taste better but there are hidden carbs in most canned varieties. This quick recipe is low carb and you can use it in your favorite dishes that call for cream of chicken soup with adding only with adding only 1 net carb!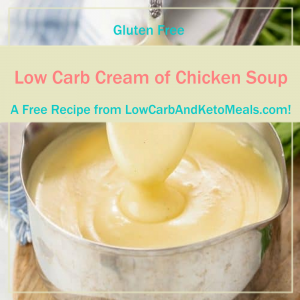 Ingredients:
Directions:
Place all of the ingredients in a medium sized skillet or Dutch oven.
Bring to a boil then reduce the heat to a simmer.
Cook, stirring occasionally until thickened.
Serve or set aside to use in your favorite recipes.
Nutrition Facts for the Entire Recipe: Net Carbs 2 gr.; Protein 14 gr.; Protein 14 gr.; Calories 590 gr.
You can use this in place of any canned cream of chicken soup that's in any recipe including: Chicken Enchiladas